About Tom
"As far back as I can remember I always had a dog at my side.  There has always been a soft spot in my heart for them".  After 42 years of operating heavy equipment doing underground utility work, I have decided to dedicate my working life to something I always have had a passion for, working with dogs.  Thus I became a professional dog trainer and electronic dog fence specialist in the greater Philadelphia area.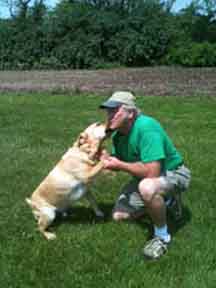 Hi.  I'm Tom Miller.  I am a graduate of Methacton High School and also North Montco Vo-Tech School.  I have always been a music and racing fanatic as well.  I started singing professionally at the age of 20.  Still active today in music, I also race dirt modified race cars, which I finally started at the age of 44 at the Bridgeport Speedway in New Jersey.
"This is the perfect step in my life to give back to the dog community what dogs have given me, love and friendship.  Back in my day growing up most pets ran free.  Today they can't.  Traffic, close neighbors, the risk of accidents, and most of all the risk of losing your pet.  These are the things pet owners have to face while trying to provide a loving home for their pet".
I decided that training dogs would also be perfect for me.  Along with the professional training I have teamed up with Contain- A -Pet America to provide electronic fencing to the area.
I studied as many companies as I could and decided that Contain- A- Pet America has more to offer than all of them.  After talking with Contain- A -Pet, I realized they also had a passion for dogs mainly because they insist their dealers become Professional Trainers as well.  That impressed me.
So if you would like your pet to be safe and secure, please call and ask for Tom at Contain-A-Pet S.E. PA.   I provide professional dog fencing for the southeastern PA area.The number is 855-349-9387.  Yes, this is a toll free number.   🙂
Along with courteous and superb service you will also get the best dog fencing containment guarantee in the pet containment industry.  I promise you that there will be no high pressure sales talk.  You either believe I can help keep your pet safe or not.  In addition, you will learn something about your dog that you did not know before.
Thank you,
Providing electronic dog fencing to Philadelphia and southeastern PA.
Philadelphia Dog Fence
PA Dog Fence
Allentown Dog Fence
Reading Dog Fence
Tom Miller
Certified Dog Trainer and Contain-A-Pet True Professional
855-349-9387